Hey guys
With my birthday and Christmas just over I got some money so thought I would treat myself to a few new things.  Money has been tight recently so it has felt amazing to treat myself. 
BIKER DETAIL REEFER COAT from Warehouse.  This was actually a birthday present but I wanted to put it in.  I love the colour it is a really pale grey colour which to me looks towards a light pinky shade but I am terrible at describing colours if something is blue I think it's purple!  I wanted a more dressy coat so when I saw this I thought it was perfect because it is a smart style but with an edge with the detail on the shoulder and zips on the sleeves.   
I bought these boots from Zara but they are no longer in stock which surprises me because I haven't had them for long they must have been in the shop for a while.  I got them from Zara in Manchester on the first day of the newly refurbished store opening so it must have been old stock.  They were £30 erm bargain! They came in black and this colour which to me they look a browny/greeny colour lighter than khaki.  I went for this colour because I always go for black so thought go crazy be bold haha 😉 I will wear them with black jeans or when wearing tights.  They are quite stiff because they are new I need to break them in.  The heel is chunky so much easier to walk in through out the day and not have my feet burn!!!
MOTO Black Leigh Jeans from TopShop.  These are my favourite jeans I like the finish of them and they are super soft and comfortable on the legs I find with jeans they fit on my waist but not on my legs but these are fitted and are a nice length to the ankle which looks nice with heels.  The only thing I find with these is the colour fades quickly and they tend to become loose when worn often so I tend to buy a size 12 which is slightly uncomfortable but after being worn they stretch and fit fine.  You can totally dress these up or down I wear white pumps with them or high heels or my knee high boots.  They come in other colours and styles and also maternity.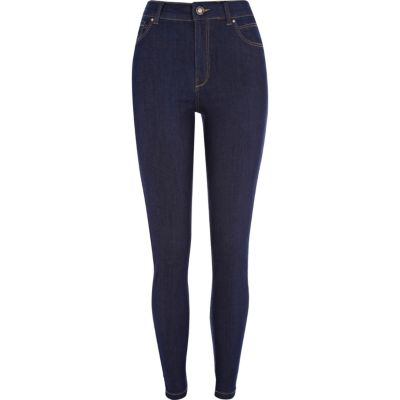 I also bought some jeans from River Island Dark Wash Lana Super Skinny Jeans  These are high waisted jeans which I used to always look for but these are not at all flattering on me.  I wish I hadn't worn them so I could take them back because the material is so soft it just shows everything which I don't like.  I'm gutted as well because I only had a bit of money to spend and I feel it has been wasted on these.
High Black Sandals from Next I haven't got these yet but I am planning on buying them this weekend.  I think they will look nice with the Leigh Jeans from TopShop and the heel doesn't look to high which will be good for me I'm not very good at walking in heels!  I like the ankle strap on them I will only wear these shoes with jeans or pants because the ankle strap can make your legs look larger and not very flattering but then again on the right shape or place it can make legs look great. 
Revlon Just Bitten Kissable Balm Stain in Lovesick 20 and Darling Cherie 10.  These are gorgeous my favourite is Cherish Devotion. 
So it isn't a lot but it was fun to shop a little again.  I tend to buy more handbags, shoes and jewellery (besides make up) than clothes I have so many handbags I am thinking of doing a post on how I store my clothes, shoes, bags etc what do you think? 
Have a fab weekend
mwah x
nico b xoxoxo